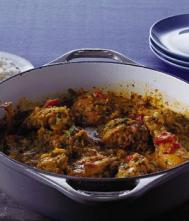 Nora's Curry Chicken and Cashews
1/2 stick (1/4 cup) unsalted butter
1 medium onions, finely chopped (2 cups)
2 large garlic cloves, finely chopped
1 tablespoon finely chopped peeled fresh ginger
3 tablespoons curry powder
2 teaspoons salt
1 teaspoon ground cumin
1/2 teaspoon cayenne
1 lb boneless chicken thighs
1 (14.5-ounce) can diced tomatoes
1/4 cup chopped fresh cilantro
3/4 cup cashews (1/4 pound)
1 can of cocnut milk
Accompaniment: cooked basmati or jasmine rice
Garnish: chopped fresh cilantro
preparation
Heat butter in a 5- to 6-quart wide heavy pot over moderately low heat until foam subsides, then cook onions, garlic, and ginger, stirring, until softened, about 5 minutes. Add curry powder, salt, cumin, and cayenne and cook, stirring, 2 minutes. Add chicken and cook, stirring to coat, 3 minutes. Add tomatoes, including juice, cocnut milk and cilantro and bring to a simmer, then cover and simmer gently, stirring occasionally, until chicken is cooked through, about 20 minutes.
Liz's Beef Stew
1 to 1 1/2 lb Stew meat
1 Cup Flour
1 Can Beef Broth
1 Can Red Wine
1 Can Golden Mushroom Soup
1 Can Cream of Mushroom Soup
1 Can Water - maybe less
Potatoes - 1 per person or more depending on personal preference
2-3 Onions
2-3 Carrots
1 Celery Stick
Place flour with seasoning salt (I use Lowry's) in plastic bag, put meat cubes in bag.
After meat is coated with flour, brown on stove with 1/4 stick of butter.
If the stew is going to be cooking all day on low put all ingredients in crock pot and let cook on low I add a few drops of Kitchen Bouquet when I add the vegetables for coloring.
For a thicker broth make a roux and thicken stew closer to when it it is going to be served.