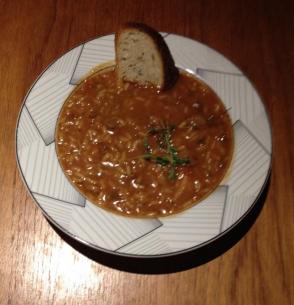 Gumbo Rice Soup
1 onion chopped
1 green pepper diced
1 red pepper diced
3 stalks of celery diced
2 TBLS olive oil
Spices:
1 tsp kosher salt (not table salt)
2 tsp chili powder
2 tsp Hungarian paprika
2 tsp coarsely ground black pepper
1 tsp dried basil
1 tsp dried oregano
1 tsp ground coriander
1 tsp cayenne pepper
1/2 tsp dried thyme
1/4 tsp cumin
1/4 tsp white pepper
Roux
3 TBLS Olive Oil
3 TBLS Flour
1LB of chicken cut into cubes
1LB of sausage slice into small pieces
1 14.5oz. can of undrained diced tomatoes
10 cups of water
Sauté vegetables in sauté pand until soft. To make the roux, use the pot to make the soup and heat oil over medium heat add flour and stir frequently with a whisk for about eight minutes until distinctive aroma and dark carmel color. Add the chicken to roux, stir to coat evenly and sauté 5 min. Add vegetables, sausage, rice and spices sauté for 2 minutes add tomatoes and water. Reduce and simmer for 25 minutes or until rice is tender.
Hungarian Mushroom Soup (a favorite of Caroline)
1 onion sliced and chopped
1.5lbs. mushrooms, sliced (combine varieties such as button, baby portabella and shitake)
2 TBLS paprika
Salt and pepper to taste
4 cups chicken or vegetable broth
1.5 cups cream or half and half
Sauté onions and mushrooms until soft. Stir in paprika and salt and pepper for about 1 minute before adding broth, simmer for about 10 minutes add the cream and heat through and serve. This soup is great served with buttermilk biscuits.
Broccoli and Leek Soup (Nora's favorite)
2 leeks
1 head of broccoli
1 tsp white pepper
Salt to taste
6 cups chicken or vegetable broth
1-cup cream or half and half (optional)
Slice leeks including some of the green part of the leeks. Chop up broccoli in small pieces.
Sauté leeks until soft, add broccoli sauté for about 3 minutes, add white pepper and salt and broth.
Simmer until the broccoli is soft. Remove from heat and puree until smooth. Return to heat and cream, heat through and serve.
Apple Rutabaga Soup
1 stick (1/4 pound) butter
1 cup onion, roughly chopped
1 cup Granny Smith apple, peeled, cored and roughly chopped
1 cup rutabaga, peeled and roughly chopped
1 cup butternut squash, peeled, seeded and roughly chopped
1 cup carrots, peeled and roughly chopped
1 cup sweet potato, peeled and roughly chopped
1 quart good chicken stock
2 cups heavy cream
1/4 cup maple syrup
Salt and cayenne pepper to taste
In a large saucepan over medium-high heat, melt the butter. Add the onion, apple, rutabaga, squash, carrots and sweet potato and cook, stirring occasionally, until the onions are translucent.
Add the chicken stock and bring to a boil. Simmer for 20 to 25 minutes or until all of the vegetables are cooked through and tender.
Puree the vegetables in a blender or food processor. Strain through a fine mesh strainer into the same pot you used to cook the vegetables. Add the cream, maple syrup, salt and cayenne pepper.
Return the pot to the stove, bring the soup to a simmer, and serve.