Nora's Sea Scallops with Baby Turnips and Greens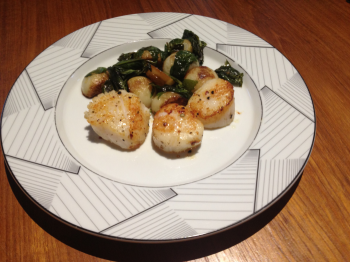 For two:
8 large sea scallops
One bunch baby turnips with greens
2 TBLS Olive Oil
1TBLS Butter
Baby Turnips: in heated saute pan and ! TBLS of Olive Oil. Add baby turnips that have been halved, saute until turnips start to brown, add greens and wilt.
Scallops, Heat saute pan and 1TBLS Olive Oil and 1TBLS butter, Add scallops saute until brown and both sides, about 3-4 minutes totally.
Serve hot!
ALANA'S LEMON BARS (Gluten Free)
1/2 cup canola or safflower oil

1/2 cup white sugar

2 cups gluten free flour blend
(1/3 cup rice flower, 1/3 tapioca flower, and 1/3 sorghum flower to make one cup)
1/2 cup canola or safflower oil
4 eggs
1 1/2 cups white sugar
1/4 cup rice flo

2 lemons, juiced
Preheat oven to 350 degrees F (175 degrees C).
In a medium bowl, blend together oil, 2 cups flour and 1/2 cup sugar. Press into the bottom of an ungreased 9x13 inch pan.
Bake for 15 to 20 minutes in the preheated oven, or until firm and golden. In another bowl, whisk together the remaining 1 1/2 cups sugar and 1/4 cup rice flour. Whisk in the eggs and lemon juice. Pour over the baked crust.
Bake for an additional 20 minutes in the preheated oven. The bars will firm up as they cool. For a festive tray, make another pan using limes instead of lemons and adding a drop of green food coloring to give a very pale green. After both pans have cooled, cut into uniform 2 inch squares and arrange in a checker board fashion.
Recipe from Paige
I've never been one to follow recipes, or rules for that matter. Recently a friend of mine moved into the woods of Waldo County. We successfully foraged our entire meal from her property (for the most part)! I guess we now can constitute ourselves as true Maine girls. Fiddleheads sauteed in Tamari, potatoes (foraged from my Fathers' garden, which counts...) a salad of dandelion greens and butter for the potatoes flavored with fresh ramps.