THANKSGIVING RECIPES
Maine Cranberry and Blueberry Sauce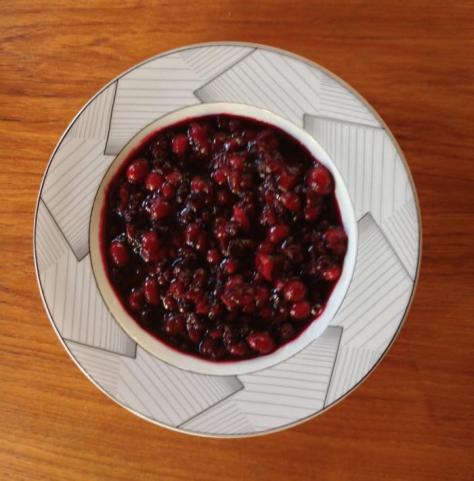 3 cups Fresh Cranberries
1.5 cups Wild Maine Blueberries (frozen, fresh are not available in November)
½– 1cup Maple Syrup
½ cup Water

In saucepan place all ingredients, bring to boil, turn heat down to a simmer, cook for 20 minutes until cranberries pop and sauce begins to thicken. Sauce will thicken as it cools.
Maple Syrup Pecan Pie
This is a great pie for your Thanksgiving Day dinner!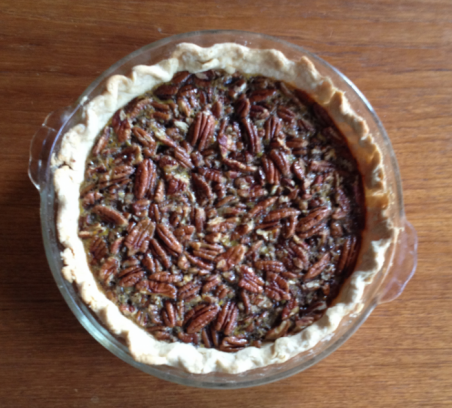 One single piecrust
¾ cup maple syrup
3 eggs
2 TBLS melted butter
1 tsp vanilla
1.5 cups coarsely chopped pecans
Beat eggs; mix in melted butter, maple syrup and vanilla. Stir in pecans. Pour into unbaked pie shell.
Bake at 350º for 45-60minutes. Pie is done when center reaches 200º or when center springs back when center is tapped lightly.
Nora's Spice Cake with Pear Sauce
2 1/2 cups bleached all purpose flour
2 teaspoons pumpkin pie spice
1 1/2 teaspoons baking soda
1/2 teaspoon salt
1 1/4 cups firmly packed dark brown sugar
1/2 cups (1 stick) unsalted butter, melted and cooled
1 egg
1 cup buttermilk
1 cup chopped walnuts
Rum raisin or vanilla ice cream
Preheat oven to 350°F. Butter and flour 8-inch square metal baking pan. Mix first 4 ingredients in medium bowl to blend. Whisk sugar, butter and egg in large bowl until smooth. Whisk in dry ingredients alternately with buttermilk, beginning with dry ingredients. Fold in nuts. Transfer batter to prepared pan. Bake until tester inserted in center comes out clean, about 1 hour. Cool slightly in pan on rack. Serve warm with ice cream.
Pear Sauce
8 ripe barlett pears
1/2 cup orange juice
Cut pears into cubes, place in sauce pan with orange juice. Simmer until pears are soft, process through a foley food mill to make sauce.
To serve, place a spponful of pear sauce on the plate top with a slice of spice cake, more pear sauce and whipping cream.
Paige's Unstuffed Stuffing
1 loaf sourdough bread
2 carrots, peeled & chopped
2 celery stalks, peeled & chopped
1 yellow onion, chopped
1 package prosciutto
A couple splashes cup of white wine
1 can chicken broth (low sodium)
2 cloves garlic, chopped
1 shallot, chopped
Saute garlic, shallot, carrots, celery, onion in butter, add chicken broth and let simmer.
Once carrots are soft, add wine. Simmer for several minutes.
Cut bread into 1/2 inch cubes.
Combine all into a bowl and mix until all liquid is absorbed into the bread. Grease a pyrex dish, then spread mixture in. Bake for ten minutes at 325, and then place prosciutto on top for the remaining twenty minutes.