This has been a favorite at our Christmas Eve Party, from Bon Appétit, December 2004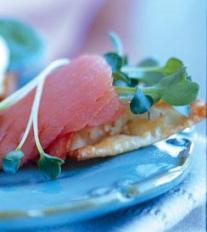 SESAME WONTON TRIANGLES WITH SMOKED SALMON AND WASABI. submitted by Nora
1/4 cup plus 1/2 teaspoon toasted sesame oil (such as Asian)
1 egg white
8 wonton wrappers
2 tablespoons sesame seeds
2 tablespoons seasoned rice vinegar
2 tablespoons chopped chives
1 1/4 teaspoons wasabi paste*
1 teaspoon minced peeled fresh ginger
6 ounces sliced smoked salmon
Daikon radish sprouts or other small sprouts
preparation
Preheat oven to 350°F. Whisk 1/4 cup oil and egg white in small bowl to blend. Place wonton wrappers in single layer on work surface; brush with some of oil mixture and sprinkle with half of seeds. Fold diagonally in half. Brush with more oil mixture; sprinkle with remaining seeds. Cut each into 2 triangles. Place on baking sheet. Bake until golden, about 13 minutes. Cool.
Whisk vinegar, chives, wasabi, ginger, and 1/2 teaspoon oil in bowl. Cover each wonton with 1 salmon slice, then drizzle with wasabi mixture. Top salmon with sprouts, then fold salmon over sprouts. Top with more sprouts.
BAKED BRIE submitted by Paige
1 brie
brown sugar, walnuts, dark rum
Place brie in a pie dish or any pyrex dish. Rub with desired amounts of walnuts and brown sugar, covering the top and sides. Splash dark rum over it, bake at 350 for 12ish minutes checking frequently so as not to turn into a melted mess. Serve with toasted slices of pumpernickel or desired crackers.
Veggies with Yummy Dip submitted by Liz
16oz Sour Cream
1/2 cup Hellman's Mayo
Juice from two lemons
1 small can of anchovies, mashed with a fork
Chopped fresh chives or flat leaf parsley
Mix all ingredients together. Best if dip sits overnight in the refrigerator. Serve with cut up carrots, celery, green and red peppers.