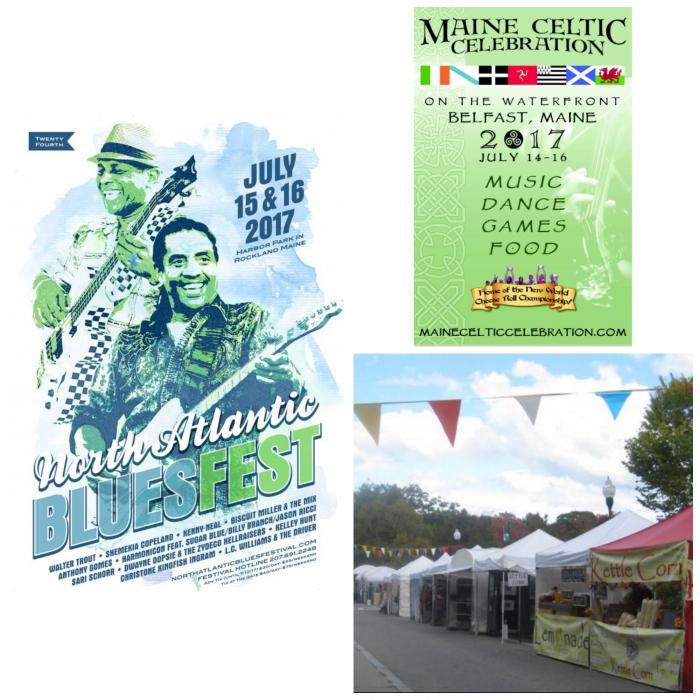 Maine is officially the Vacation State, with something to do everyday in the great outdoors. This weekend is no exception of course, but there's more to do than just sight see all of our lovely harbors and beautiful oceans. That's right we're in the thick of it when it comes to FESTIVAL season and there's no excuse for not getting out there and enjoying some of it.
Right here in Camden we have the favorite fest of our gallery gals, the Harbor Arts and Books Fair. Going on through the weekend, this festival features books of all types for sale and the proceeds benefit the Camden library, one of the top rated public libraries in the nation. Stop by to pick out the perfect summer read, or peruse the crafts in the stunning scenery that is their historic amphitheatre. It is a lovely spot to start strolling through downtown Camden, and naturally we recommend stopping in all the great shops and galleries along Elm Street after checking out the Harbor Arts and Books fair.
North of Camden, Belfast will be hosting their annual Maine Celtic Celebration with family friendly activities like the Kilted Canter run, the Highland Heavy games and our personal favorite the celtic breeds parade and dog show Celtic breeds parade and dog show! Events run through Sunday July 15th, and if past celebrations are any indication, you will want to stop by and enjoy all things Celtic.
However, if you're in the mood for a real "Mainah's" sea shanty instead of the traditional Celtic songs you'll hear in Belfast, Friday you'll want to head to the Sail Power & Steam Museum for a night concert with Greg Bok. This is a must see for all ages, and one of Thomas' personal favorites.
Last but certainly not least, no list of weekend fun is complete without mention of the annual Rockland Blues Festival! This is popular for locals and North Easterners alike who attend year after year and always have a great time. Too busy going to another festival Saturday to catch any actual music during the day? Head out on the town in downtown Rockland, that night instead to catch the Club Crawl, which is a fantastic street festival that is no charge to enjoy. Those with wrist bands for the festival gain admission free entrance to all participating venues. Find out more on this locally grown and operated festival here: http://www.northatlanticbluesfestivalcom/
It's a hard weekend to stay indoors and not enjoy something new! We look forward to meeting some of you out and about, but for those of you who would rather go gallery gazing, we're now open Mondays-Saturdays, so you can visit us and we'll regale you with our tales of this weekend's Maine Festivals and of course, what jewelry we wore.