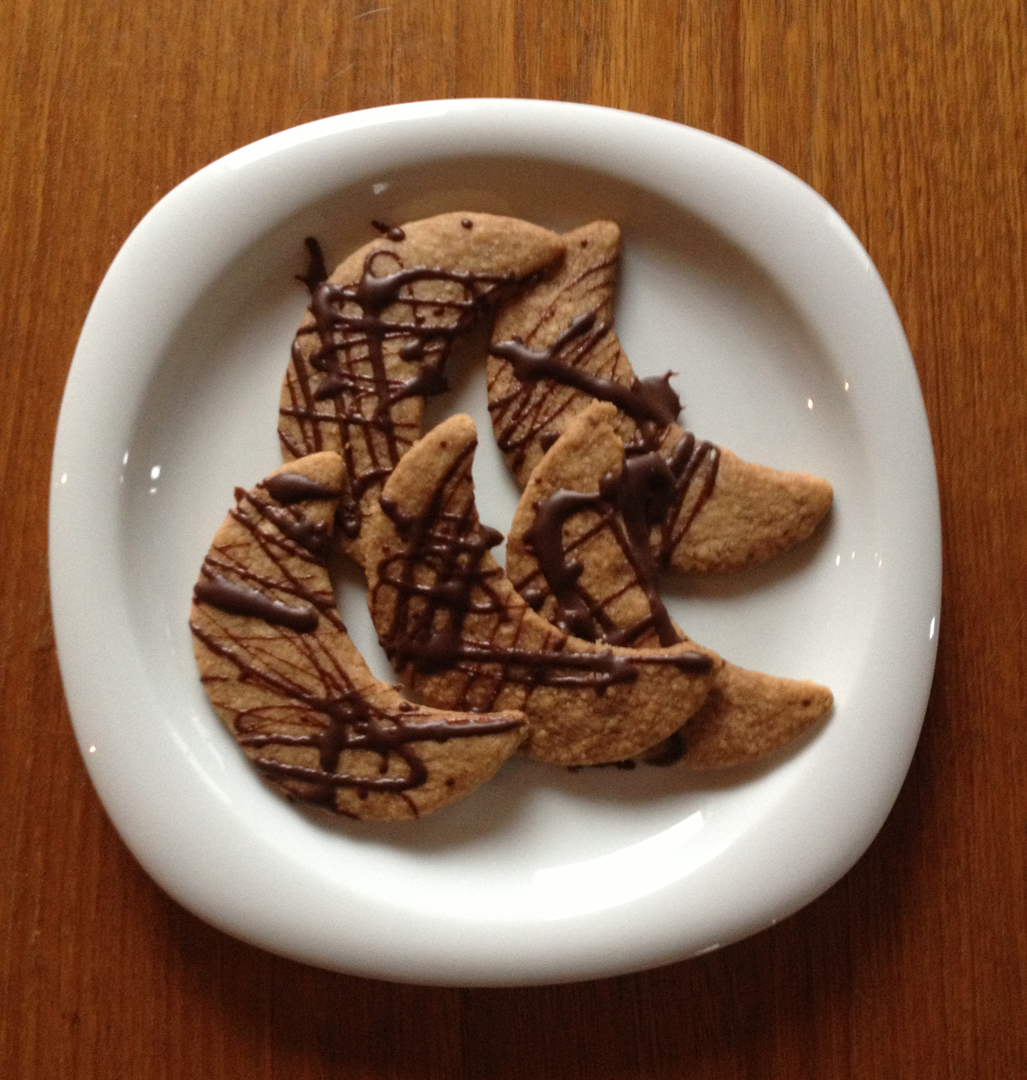 'Tis the season for holiday baking! Here are a few of our favorite cookie recipes.
Nora's cinnamon crescent cookies have just enough chocolate to tempt anyone and they look really pretty to boot. Snickerdoodles are a cookie for anytime of the year, really, Christmas just offers a good excuse to indulge in them. The recipe is from the one and only Betty Crocker. Liz, not a fan of baking or sweets, has shared her bread recipe, great for toast or to go with any meal. Enjoy!
Cinnamon, Brown Sugar, and Walnut Shortbread Crescents
from Bon Appetit 2003 December Issue

2 cups all purpose flour
1 teaspoon ground cinnamon
1/4 teaspoon (generous) salt
1 cup (2 sticks) unsalted butter, room temperature
2/3 cup (packed) golden brown sugar
1/2 cup walnuts, toasted, finely chopped

4 ounces bittersweet (not unsweetened) or semisweet chocolate, chopped


Whisk first 3 ingredients in medium bowl to blend. Using electric mixer, beat butter and brown sugar in large bowl to blend well. Add dry ingredients; beat just until dough forms clumps. Stir in nuts. Gather dough into ball; flatten into disk. Wrap in plastic; chill at least 2 hours and up to 1 day. Soften slightly at room temperature before rolling out, if necessary.
Line 3 large baking sheets with parchment paper. Roll out dough on floured surface to 1/8-inch thickness. Dip 3-inch-long crescent-shaped cookie cutter in flour to coat; cut out cookies. Arrange cookies 1 inch apart on prepared baking sheets. Gather dough scraps and reroll. Cut out additional cookies. Refrigerate cookies on sheets 20 minutes.
Meanwhile, preheat oven to 300°F. Bake cookies 1 sheet at a time until pale golden and firm to touch, about 25 minutes. Transfer cookies to racks and cool.
Stir chocolate in top of double boiler over barely simmering water until smooth. Remove from over water. Cool chocolate 10 minutes. Place racks with cookies over rimmed baking sheets. Dip spoon into melted chocolate; wave back and forth over cookies to decorate with zigzag pattern. Chill cookies until chocolate is firm, about 20 minutes. (Can be made 5 days ahead. Store airtight between sheets of waxed paper at room temperature.)
Snickerdoodles

1 ½ cups sugar
1 cup butter, softened
2 eggs
2 ¾ cups all-purpose flour
2 teaspoons cream of tartar
1 teaspoon baking soda
¼ teaspoon salt
¼ cup sugar
2 teaspoons ground cinnamon

Heat oven to 400
Mix 1 ½ cups sugar, the butter and eggs in large bowl. Stir in flour, cream of tartar, baking soda and salt.
Shape dough into 1 ¼ inch balls. Mix ¼ cup and the cinnamon. Roll balls in cinnamon-sugar mixture. Place 2 inches apart on ungreased cookie sheet.
Bake 8 to 10 minutes or until set. Remove from cookie sheet to wire rack.
Traditional White Bread

2 (.25 ounce) packages active dry yeast
3 tablespoons honey
2 ½ cups warm water
3 tablespoons butter, softened
Slightly less than 1 tablespoon salt
6 ½ cups bread flour


In a large bowl, dissolve yeast and honey in warm water. Stir in butter, salt and two cups of flour. Stir in the remaining flour, it is more about consistency than the exact amount of flour. When the dough has pulled together, turn it out onto a lightly floured surface and knead until smooth and elastic, about 8 minutes.
Lightly oil a large bowl with olive oil. Place the dough in bowl and turn to coat with olive oil. Cover with a damp cloth and let rise in a warm place until doubled in volume, about 1 hour.
Deflate the dough and turn it out onto a lightly floured surface. Divide the dough into two equal pieces and form into loaves. Place the loaves into two lightly greased 9x5 inch loaf pans. Cover the loaves with a damp cloth (not touching the dough) and let rise until doubled in volume, about 40 minutes.
Preheat oven to 425.
Bake at 375 for about 30 minutes or until the top is golden brown and the bottom of the loaf sounds hollow when tapped.
Makes for great French toast!